I'm thrilled to be not just an author sponsor but also a book reviewer for Multicultural Children's Book Day 2017! Janelle Diller, co-founder of the Pack-n-Go Girls company, generously sent me one of their books, MYSTERY OF THE MIN MIN LIGHTS. Janelle is also the author of this book! This book is one of a series of Pack-n-Go Girls Adventure chapter books, aimed at 6- to 9-year-olds. The specialty of the Pack-n-Go Girls company, according to their website, is "creating innovative stories and toys for girls that deliver positive messages around independence, adventure, and global awareness." And now, for my review: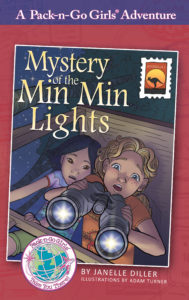 This fun and fast-paced adventure in the Outback stars Wendy Lee, a nine-year-old Chinese American girl who moves from San Francisco to Australia with her mother, who has a short-term work assignment there. Wendy meets her next-door neighbors, Chloe and Jack Taylor, and goes to their sheep station for a weekend visit. She discovers that Chloe and her younger brother believe that the Min Min lights, unidentified lights that "come out of nowhere at night," are UFOs that abduct people and steal their family's sheep. The stolen sheep and environmental factors such as a drought may force the Taylor family to give up the station. The three kids decide to sleep outside at night to figure out what is happening to the sheep, despite the threat of snakes, dingoes, and the Min Min lights.
The story is not the type of mystery where the main character finds clues and solves puzzles. The reader is kept in suspense while the three kids keep watch over the sheep all night long. There is just enough danger to keep young readers riveted without being overly frightening. The story ends with a resolution that is satisfying without being trite.
I really enjoyed that Wendy is portrayed like any other American girl and that the story isn't about her "Chinese-ness." She does occasionally talk about her heritage but it isn't the focus of the book. Instead, she marvels over what anyone else from foggy San Francisco might: the heat, the wild animals, the beauty and vastness of the landscape. Wonderful black and white illustrations by Adam Turner help convey the Australian setting.
The text is full of interesting Australian slang like "full as a goog" or "she's apples" that contrast with the American slang Wendy uses, sometimes to her new friends' amusement. The back matter is extensive and includes a key to all the slang used in the book and their English counterparts, as well as journal pages where readers can plan out their trip to Australia, and facts about the country. There's even a recipe for lamingtons, a chocolate and coconut-covered cake dessert which sounds delicious!
MYSTERY OF THE MIN MIN LIGHTS is a fantastic chapter book for kids who love to travel and/or read about other countries and cultures. It broadens horizons without being didactic and fosters compassion and understanding of others without being preachy — exactly the kind of book we need more of today.
ACTIVITY: Wendy sees and hears a number of Australian animals during her visit to the sheep station. You can download a coloring page featuring several of the animals she encountered here: http://masivy.com/single/1888019-australian-animals-coloring-pages.html
You can purchase MYSTERY OF THE MIN MIN LIGHTS on Amazon here and connect to the Pack-n-Go Girls on Twitter, Facebook, and GoodReads.
---
A little more about Multicultural Children's Book Day:
Multicultural Children's Book Day 2017 (1/27/17) is its fourth year and was founded by Valarie Budayr from Jump Into A Book and Mia Wenjen from PragmaticMom. Our mission is to raise awareness on the ongoing need to include kid's books that celebrate diversity in home and school bookshelves while also working diligently to get more of these types of books into the hands of young readers, parents and educators.
Despite census data that shows 37% of the US population consists of people of color, only 10% of children's books published have diversity content. Using the Multicultural Children's Book Day holiday, the MCBD Team are on a mission to change all of that.
Author Sponsor include: Karen Leggett Abouraya, Veronica Appleton, Susan Bernardo, Kathleen Burkinshaw, Delores Connors, Maria Dismondy, D.G. Driver, Geoff Griffin,  Savannah Hendricks, Stephen Hodges, Carmen Bernier-Grand,Vahid Imani, Gwen Jackson,  Hena, Kahn, David Kelly, Mariana Llanos, Natasha Moulton-Levy, Teddy O'Malley, Stacy McAnulty,  Cerece Murphy, Miranda Paul, Annette Pimentel, Greg Ransom, Sandra Richards, Elsa Takaoka, Graciela Tiscareño-Sato,  Sarah Stevenson, Monica Mathis-Stowe SmartChoiceNation, Andrea Y. Wang
We'd like to also give a shout-out to MCBD's impressive CoHost Team who not only hosts the book review link-up on celebration day, but who also work tirelessly to spread the word of this event. View our CoHosts HERE.
MCBD Links to remember:
MCBD site: http://multiculturalchildrensbookday.com/
Free Multicultural Books for Teachers: http://bit.ly/1kGZrta
Free Kindness Classroom Kit for Homeschoolers, Organizations, Librarians and Educators: http://multiculturalchildrensbookday.com/teachers-classroom-kindness-kit/
Free Diversity Book Lists and Activities for Teachers and Parents: http://bit.ly/1sZ5s8i
Hashtag: Don't forget to connect with us on social media and be sure and look for/use our official hashtag #ReadYourWorld.