I made this Coconut Sticky Rice Cake for my launch party last week and most of it was gone by the end, so I'm guessing people enjoyed it. 🙂 My mom and grandmother used to make a version that was first steamed, then sliced and fried until crispy on the outside and gooey on the inside. This baked version is much simpler and less messy to eat.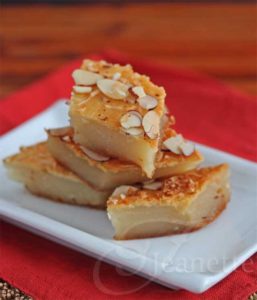 Coconut Sticky Rice Cake for Chinese New Year (or anytime of year)
Recipe and photo are by Jeanette Chen of Jeanette's Healthy Living.
Ingredients:
1 pound Mochiko Sweet Rice Flour or other brand of glutinous rice flour
1½ cups coconut milk (or you can use one can of coconut milk 13.5 – 14.0 oz) and add enough milk to make a total of 3 cups of liquid)
1½ cups low-fat milk
1¼ cups organic sugar (if you want more coconut flavor, try using coconut sugar)
1 teaspoon baking powder
½ teaspoon baking soda
½ cup olive oil or other vegetable oil
1 teaspoon almond extract (optional)
1 cup chopped or sliced nuts (almonds, walnuts) (optional)
untoasted black & white sesame seeds
Directions:
Preheat oven to 325 degrees F.
Place coconut milk, milk, sugar, baking powder, baking soda, and oil in a large mixing bowl. Mix well.
Add rice flour while stirring. Mix well.
Pour batter into a 13x9x2″ baking pan lined with parchment paper.
Sprinkle nuts or sesame seeds on top.
Bake for 1 hour. The cake will be golden brown on top.
Let cool. Cut into squares or diamond shapes.
This cake is best served the next day. Keeps for several days at room temperature.